If the title didn't give it away, this is just me airing out some thoughts. Don't expect a lot of clarity.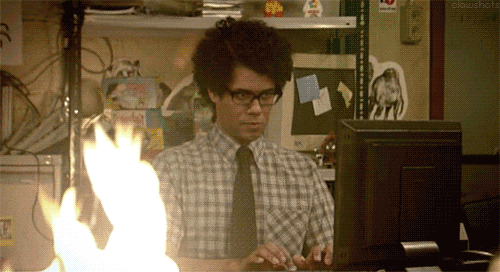 Sometimes I ask indirect questions in order to get more direct answers. It is more of a last resort than anything else but it does serve a purpose. I've had an embarrassing amount of free time this week for a multitude of reasons and it has got me back into writing my other stories. And, of course, whenever I get back into that I hop on a metaphorical rollercoaster that has no safety bar.
I made a bit of progress on one short story over a month ago but when I working on it, I got some not-so-great phone calls two nights in a row. I'm not superstitious at all but that sinking feeling in my gut still remains when I look at the draft.
The other story? If you've followed this site for a while, then you know it's that dog and cat story. I am at a constant crossroad with it. It is my oldest story (and yes, there is a story) but there remains another problem: it's that dog and cat story. I'm of the mindset that a story should say something. It has always been more about conflicting personalities working off of each other, as well a satirical look at small-town America, but I often wonder if I'm pairing my characters with the right stories. And that has been fresh on my mind too, especially with all the free-time I've had this week. I want the characters to have their moment in the spotlight but there are a lot of characters.
I asked an indirect question on an Instagram story earlier and admittedly, I was fishing for a certain response. It was also a bit of a broad question but I will ask all of you here too (even though I'm showing my cards):
What is the best, or your favorite, series? It can be from any medium.
I've enjoyed the few answers I've received. The method to my madness was/is this: what do all of these series have in common? Some of them share characters, some share themes, others share locales. I wanted to see how many had large casts of characters. The only one that did was Star Wars and when it comes to characters, the galaxy far, far away seems like an outlier. Many series do have a large quantity of characters and pull it off nicely. Others do not. Star Wars seems at its best when it is focused on a smaller groups of characters. Compare each successive trilogy: the original had only a few and they were able to delve into the common mythologies shared by many cultures, the prequels had a few more characters and sometimes had to take a back seat to the story, and the sequels had new characters bursting from its seams that had to fight for relevance in their own films. Star Wars has shown promise on television by breaking up the many arcs but it is also another medium.
I wouldn't call the five Chronicles of Prydain books by Lloyd Alexander my absolute favorite but my goodness, there is something to be learned and admired in his approach. The Book of Three introduced Taran the pig-keeper and he was insufferable. The story was good but the main character was not. But the books only focused on a handful of characters and with each one, they were able to be fleshed out. I almost dreaded the fourth book because it was solely about Taran and yet he had grown substantially as a character by that point. You felt for him. The ending of The High King is gloriously executed. Had I started with that book like I intended, I would not have had the same appreciation and respect that I have for it now. Those books are guides for character progression, plain and simple. But should you have to read or see something else to appreciate something? I think The High King could stand on its own while many stories today exist solely to set up another.
So: a few characters or a lot of characters? How many stories? Should there even be more than one story? Should there be any story written at all? I've asked myself these questions many times and I can see pros and cons for each.
C. E. called earlier this evening and we had a good chat. None of this came up, of course, but he indirectly helped settle my mind for now. We talked for a little bit about an old hangout we went to. Many, if not most nights for a few years we went there to have a drink, usually at the same table. Everyone there knew us. That was seven or eight years ago. A lot has changed. But I went back there without him three or four years ago. I didn't recognize a soul in there. It was renovated. Oddly enough though–and for the record, it had nothing to do with us–that spot we frequented had a table set up with no chairs and a light above it. It's a funny thought to think that it might have been considered sacred because of us. It's a funny thought to think that all of these complete strangers had no idea why that particular table had to be set aside as a memorial and yet they did so without a second thought. It's a funny thought to think that at one point, two friends sat there, never reserved it, but a new group of people keep it there in reserve anyway.
It's funny because there's a story behind it. Every person in there had a story. Every one of you has a story. Life is full of characters.
And so, though my mind is settled for now, I will have to ask myself directly or indirectly once again:
How many characters need their story written?